From herring to reindeer – the taste of the north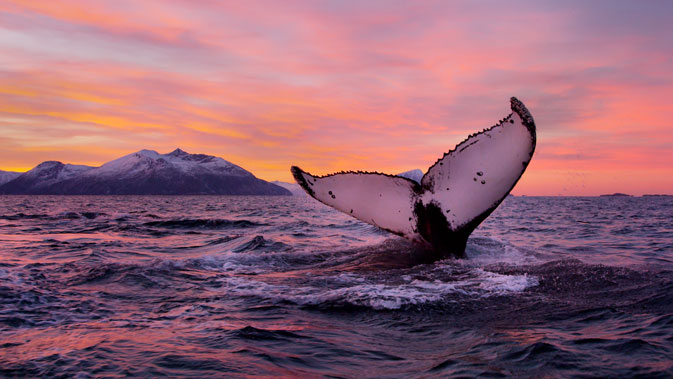 From herring to reindeer – the taste of the north
In north-western Norway, between the 67th and 70th parallels, the summers are short and the winters long. Yet the culinary offering is impressive – and it fosters creativity among young, ambitious Nordic chefs.
Swarms of screaming gulls circle around the small cutters that are fishing for herring in the dim sunlight in the fjords around the island of Sommarøy. All around the boats, dozens of black-and-white orcas and enormous humpback whales surface briefly before diving back down into the depths. They, too, are hunting the millions of herring that make their home here in winter. The whales swim in groups around the fish in ever tightening circles until, finally, they swim up from below through the swarm with open jaws. This spectacle is repeated every year between November and February, when the sun appears above the horizon for just four hours a day and the sky oscillates between grey-blue and orange-pink. There is still enough herring for whale and man. During peak season, five to six tonnes are fileted every day in the factories on the coast of Sommarøy and exported around the world; along with farmed salmon, halibut, monkfish, cod, codling, pollock (which belongs to the cod family), mackerel, sea trout and catfish. If you want to taste the unusual, delicious dishes that can be prepared from the catch, a visit to the "Fiskekompaniet" and "Mathallen" restaurants in the neighbouring city of Tromsø is highly recommended.
In winter, the sun only appears between 10am and 2pm – and not even then when it's raining or snowing. Most of the time a diffuse dusk or pitch-black night prevails. Why, as a tourist, would you choose to visit? Because life is lived more intensively here. You can watch the whales and see how cod is prepared into stockfish. You can gaze in amazement at the Northern Lights, wafting in the sky like a magical drape of colour. And let's not forget the reindeer, who are only here with the breeders and herders in winter. Between March and September, they lead their own lives far away from here. 40,000 Saamis live in Norway, Sweden, Finland and Russia, and 6,000 to 7,000 of those make their living breeding reindeer. The animals live almost exclusively on around 200 different species of wild mushrooms, lichens, grasses, herbs and flowers, making their meat wonderfully mild, aromatic, low in fat and healthy – and very expensive. King Harald V of Norway has the meat served during state receptions – the best Ibérico ham tastes downright insipid compared to dried and smoked reindeer heart. Cut into wafer-thin slices, the Saamis like to enjoy it with a cup of strong coffee.
The long Norwegian winter is broken by a short but intense summer, in which the sun almost never sets. The cool climate and the midnight sun make carrots and turnips deliciously sweet. Not far from Bodø, Mathilde Jakobsen and Håvard Johannes Winther prepare a unique carrot preserve. The "midnight carrots", which sprout under a layer of snow in spring and which have developed an intense flavour by the time summer comes round, are also a speciality. But vegetable cultivation in the Arctic Circle is not limited to carrots and potatoes. In 1850, the Russians brought May turnips to northern Norway, and celery, beetroot, cabbage, onions and parsnips, as well as apples, pears and plums, grow in the fields. Together with lamb, cloudberries, herbs, "arctic sea salt" from Saltstraumen, dairy products and, of course, fish and shellfish, this produce forms the basis of the new, innovative regional Scandinavian cuisine, which is not only promoted and developed by famous restaurants such as "Noma" in Copenhagen and "Fäviken" in northern Sweden, but also by trailblazing young chefs in Norway.
Text: Rainer Meier

Products
Arctic Salt (sea salt)
Ripnes, 8056 Saltstraumen
Tel. +47 (0)908 97527
http://arcticsalt.no
Brewery Bådin (beer)
Notveien 3B, 8013 Bodø
Tel. +47 (0)922 37807
www.baadin.com
Han Sylte (carrot marmalade)
8006 Bodø
Tel. +47 (0)467 46769 and (0)970 18490
www.hansylte.no
Havgull AS (stockfish crisps)
Hamnevegen 17
9110 Sommarøy
Tel. +47 (0)900 85816
www.havgull.no
Hjerttind Rein AS (reindeer)
Andsvatnet, 9310 Sørreisa
Tel. +47 (0)926 25321 and (0)977 77552
www.facebook.com/hjerttindrein
Inga Sami-Siida (reindeer)
Kvalsaukan, 8400 Sortland
Tel. +47 (0)908 77558 and (0)761 25123
www.inga-sami-siida.no
Tromspotet AS (potatoes)
Naustveien 17, 9303 Silsand
Tel +47 (0)77 850691
http://midnattsolpotet.no
Restaurants
Fiskekompaniet
Killengreens gate, 9008 Tromsø
Tel. +47 (0)77 687600
http://fiskekompani.no
Mathallen
Grønnegata 58/60, 9008 Tromsø
Tel. +47 (0)77 680100
www.mathallentromso.no
Martahaugen Gård (mouflon specialities)
Øvre Ånstad vei 19, 8400 Sortland
Tel. + 47 (0)916 47170 and (0)761 24150
http://marthahaugen.no
NYT
Dronningens gate 26, 8006 Bodø,
Tel. +47 (0)452 31100
www.facebook.com/restaurantnyt
Roast at the Scandic Havet Hotel
Tollbugaten 5, 8006 Bodø
Tel. +47 (0)75 503800
http://roastfood.no/bodo/
Hotels
Clarion Collection Hotel Grand
Storgaten 3, 8006 Bodø
Tel. +47 (0)75 546100
www.nordicchoicehotels.com/clarion/clarion-collection-hotel-grand-bodo
Sommarøy Arctic Hotel
Skipsholmvegen 22, 9110 Sommarøy
Tel. +47 (0)77 664000
www.sommaroy.no
Scandic Ishavshotel
Fredrik Langesgate 2, 9008 Tromsø
Tel. +47 (0)77 666400
www.scandichotels.no/hotell/norge/tromso/scandic-ishavshotel
Whale Watching Safari
9110 Sommarøy
http://sommaroy.no/events/hvalsafari/?lang=en
Information
Northern Norway, Tel. +47 (0)901 77500, www.northernnorway.com
Getting there
Widerøe and Norwegian fly several times daily from Oslo to Bodø and Tromsø. If you have the time you should travel along the coast with Hurtigruten.