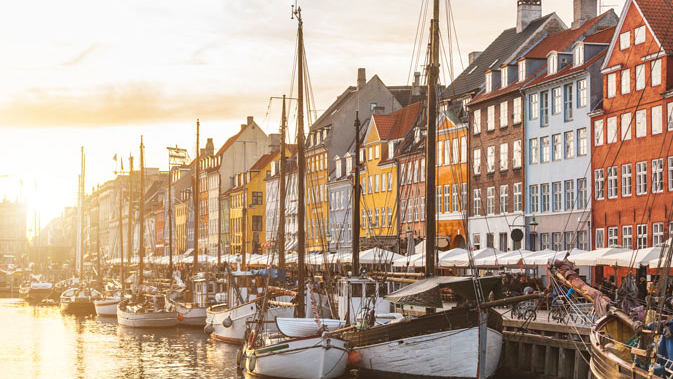 Copenhagen
The Germans speak of "living like God in France", but he'd feel equally at home in the Danish capital. It comes down to the wide variety of culinary high points to be found here, and not least its standard of living.
The Danes, according to the "World Happiness Report", are the happiest people in the world. This is perhaps most striking in the blissful serenity with which the people of Copenhagen move through their city. Preferably by bicycle – after all, it's less stressful, and healthier too. And let's not forget, the city offers a 400-km-long network of paths. Whether they're royals, stiletto-clad women or city officials, every other person is astride their steely steed. They do tend to travel the few metres to the unofficial parliament canteen "Slotskælderen hos Gitte Kik" on foot though. This welcoming traditional bar tempts guests with an opulent selection of classic Smørrebrøds [Danish open sandwiches]. Filled with marinated herring, egg, crab or ox tongue, everything tastes fresh and hearty. The Christiansborg Palace, the seat of the Danish government, recently saw the opening of "Tårnet" [Tower] with panoramic views over the Royal Riding Grounds and the old town. Founder and head chef Rasmus Bo Bojesen is famous for his sophisticated dishes using top quality local produce. The best example is his cult sandwich, the "Shooting Star": two fillets of plaice – one fried, one poached – on grainy rye bread with salsify and whitefish roe. This open sandwich reminds us that Danish fishermen and farmers first created Smørrebrød out of leftovers. The Hotel "D'Angleterre" on Kongens Nytorv Square, is resplendent in its dazzling white paint after a lengthy renovation. Its "Marchal" restaurant is home to delicate creations such as monkfish fried on the bone and served with lardo and rehydrated potatoes.
Who would suspect that Copenhagen's most exciting fish restaurant could be found in the former meat packing complex, with deckchairs outside the door and a butcher's block as a reception desk? However, the 1,000-litre aquarium at the "Kødbyens Fiskebar" is temporarily home to tasty maritime morsels that are soon to end up on a plate. Depending on the season, there will be oysters or snow crabs, hake or halibut, all cooked on the spot and attractively served with lots of herbs and vegetables. "We know our fish," says manager Anders Selmer, "we either raise our own or buy from carefully selected producers". He shares his enthusiasm for quality Danish produce with René Redzepi, in whose world-famous restaurant "Noma" he previously worked. Nevertheless, the Michelin Guide rates "Geranium" as the current highlight of Nordic cuisine. Under the leadership of Rasmus Kofoed and Søren Ledet, it serves only a surprise menu every day. All ingredients are organic, guaranteeing a three-star top feast for the eyes and the taste buds. The cuisine of Nicolai Nørregaard at "Kadeau" presents an even more Nordic image, with a menu based around the local produce of Bornholm, both wild and cultivated. Vegetables, herbs and berries are harvested at their maximum ripeness and preserved using high-tech methods, so that the island can be represented all year round on the artfully designed plates of the 20-dish "Bornholmerbank" menu.
Organic ingredients and sustainable production have been gaining importance in Copenhagen's kitchens for some time. At the same time, modern markets selling nothing but quality goods have arisen. One pioneer was the "Torvehallerne" market, with more than 60 stalls. Almost the whole world has a presence at the "Papirøen" street food market. Colourfully decorated snack stands sell authentic delicacies from countries such as Mexico, Korea or Italy. Most of them also offer live music and a wonderful view of the harbour. This is where you can cheerfully order a drink and mingle with the happy Danes.
Text: Kiki Baron
Addresses

Hotel
D'Angleterre & Restaurant Marchal
Kongens Nytorv 34
Tel. +45/33 12 00 95
www.lhw.com/dangleterre

Dining
Slotskælderen hos Gitte Kik
Fortunstræde 4
Tel +45/33 11 15 37
www.slotskaelderen.dk
Tårnet
Christiansborg Palace
Tel. +45/33 37 31 00
taarnet.dk
Kødbyens Fiskebar
Flæsketorvet 100
Tel. +45/32 15 56 56
fiskebaren.dk
Geranium
Per Henrik Lings Allé 4
Tel. +45/69 96 00 20
www.geranium.dk
Noma
Strandgade 93
Tel. +45/32 96 32 97
noma.dk
Kadeau
Wildersgade 10b
Tel. +45/33 25 22 23
www.kadeau.dk
Torvehallerne
Frederiksborggade 21
torvehallernekbh.dk
Papirøen
Trangravsvej 14
copenhagenstreetfood.dk