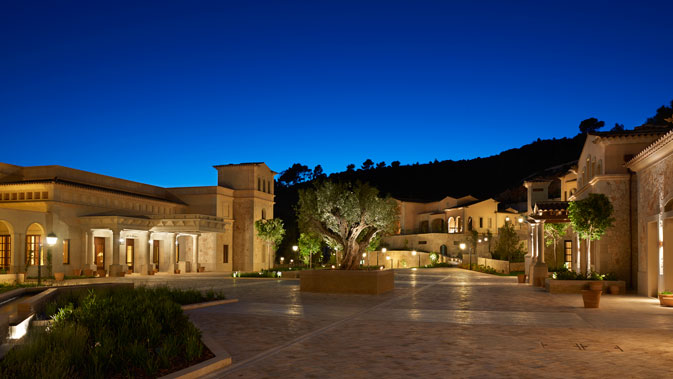 Days of pleasure
The north coast of Mallorca is beautiful and peaceful. It's the ideal place to relax and spoil yourself.
Only 50 minutes to the north-east of Palma international airport, you'll find yourself on the doorstep of the "Park Hyatt MallorcaTM". In its layout and style, it recreates a traditional Mallorcan mountain village (with a pleasant degree of comfort and luxury thrown in), nestled on a hilltop densely covered in vibrant green Aleppo pines. The view from up here, over the valley of Cap Vermell and down to the shimmering blue sea couldn't be more idyllic, not to mention romantic at sunset.
The "Park Hyatt Mallorca" is the brand's first resort in Europe and forms the heart of the Cap Vermell property development. It is centred around the village square – the Plaza de la Torre. From here, branching lanes scented with lavender and aromatic herbs wind their way to the various "districts", which have names such as Limonero or Olivio. Lemon and olive trees grow in their gardens.
The individually designed villas house 142 rooms and suites ranging from 50 to 150 m2 in size, each with their own balcony or terrace. There are four restaurants and a pool bar, a spacious spa and fitness area, a variety of leisure facilities and modern function rooms. Hotel guests can use all the facilities of the neighbouring Country Club and the Beach Club below on Canyamel beach free of charge.
It is well known that this Balearic island now offers a top notch gastronomic experience, benefiting from first class home-grown produce. The cuisine and kitchens at the Park Hyatt are evidence of this too. Take, for example, the "Tapas" bar. There you will find tasty morsels whose traditional recipes have been skilfully refined: tapas with the perfect twist. The traditional Mallorcan summer salad, "trampo", consisting of diced peppers, onions and tomatoes, mayonnaise, ground almonds, salt and olive oil is combined with king prawns and salmon roe and served with a refreshing soup. Or "oliva ascolana", which are stuffed and then fried. These creations stem from ideas by the Basque Michelin-starred top chef David García, who has the ability to conjure surprising flavour experiences by combining old and new cuisines.
The "Asia" restaurant is reminiscent of an exclusive, private villa, with a veranda and a view over the valley. This is where guest chefs prepare dishes from all over the continent, such as the delicious Nyonya Chicken Curry, which is typical of Malaysia and Singapore.
The Park Hyatt sources the majority of its goods from local retailers and producers, from sustainably caught fish and free-range poultry to local vegetables, fruits, olives and wines. Guests who not only love to eat and to eat well, but who also may well be passionate cooks themselves, will find top tips on which market (e.g. the one in Artà), which vintner (e.g. Bodega Ribas, with wines made from the island's indigenous grape varieties such as Prensal and Mantonegro) and which olive oil producers (e.g. Aubocassa) they should visit.
Text: Regine Smith Thyme