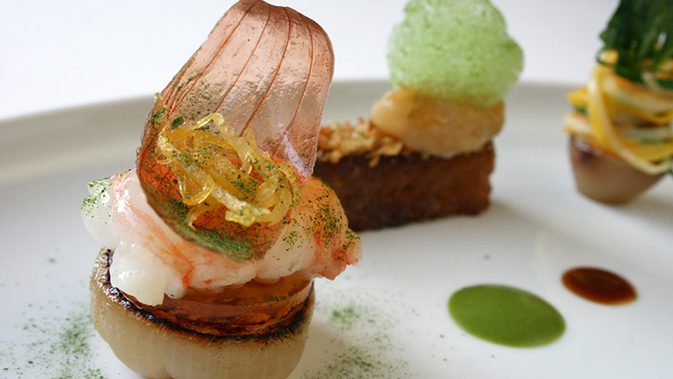 Meat-free pleasure
More and more top chefs are also offering vegetarian menus in their restaurants. Even those committed to eating meat can appreciate that.
When Denis Cotter from Café Paradiso in Cork, Ireland was awarded "Cook of the Year" in 2010, the gourmet world was surprised because Cotter runs one of the best vegetarian restaurants in Ireland. With the exception of some pioneers like Tal Ronnen (Le Cordon Bleu, St. Louis), Alain Passard (L'Arpège, Paris), Pietro Leemann (Joia, Milan), Christian Wrenkh (Wiener Kochsalon, Vienna) and Rolf Hiltl (Hiltl, Zurich), vegetarian cuisine is rare in cutting-edge gastronomy.
This is changing as we speak. The American star chefs Thomas Keller (The French Laundry in Yountville, California and Per Se in New York City), Jean-Georges Vongerichten (among others Jean Georges in New York City), Eric Ripert (Le Bernardin in New York City) and Charlie Trotter (formerly Charlie Trotter's in Chicago) have recently published recipes in a vegetarian cookbook ("Great Chefs Cook Vegan", Gibbs Smith Pub) that have obviously inspired numerous colleagues. The US top chefs Carla Hall, Michael Chiarello, Hubert Keller, Radhika Desai, Paul Qui, Kenny Gilbert and Hector Santiago were honoured in April 2012 by the blog "The Opinioness of the World" as the seven best for their vegetarian dishes.
In her restaurant Magnolia in the 5-star resort Madinat Jumeirah in Dubai, Gabriele Kurz offers her international guests gourmet meals of the highest quality. And Michael Hoffmann from the star restaurant Margaux in Berlin serves a modern, six-course "vegetable menu" with ingredients from his own garden in Brandenburg. The German TV chef Christian Henze gets to the heart of it: "Vegetarian dishes have led a shadowy existence for a long time in star gastronomy. This is changing rapidly right now, because more and more colleagues recognise the countless creative possibilities and the high potential for enjoyment of vegetarian cuisine. Today, many top-class restaurants have elaborate vegetarian dishes or even complete meals on their menu."
Links:
Denis Cotter: www.cafeparadiso.ie
Tal Ronnen: www.chefs.edu/St-Louis
Alain Passard: www.alain-passard.com
Pietro Leemann: www.joia.it
Christian Wrenkh: www.wiener-kochsalon.com
Rolf Hiltl: www.hiltl.ch
Thomas Keller: www.frenchlaundry.com
Jean-Georges Vongerichten: www.jean-georges.com
Eric Ripert: www.le-bernardin.com, www.aveceric.com (MIELE-Partner)
Charlie Trotter: www.charlietrotters.com
Carla Hall: www.carlahall.com
Michael Chiarello: www.michaelchiarello.com
Hubert Keller: www.hubertkeller.com
Radhika Desai: https://twitter.com/ChefRadhika
Paul Qui: http://uchiaustin.com/uchiko-biographies-pqu, www.facebook.com/paul.qui.9, https://twitter.com/pqui
Kenny Gilbert: https://twitter.com/chefkennyg37, http://www.facebook.com/chefkennyg, http://kennygblog.passionate-culinary-enterprises.com/
Hector Santiago: www.puravidatapas.com, https://twitter.com/ChefHector
Gabriele Kurz: www.jumeirah.com
Michael Hoffmann: http://margaux-berlin.de
Christian Henze: www.henze-kochschule.de