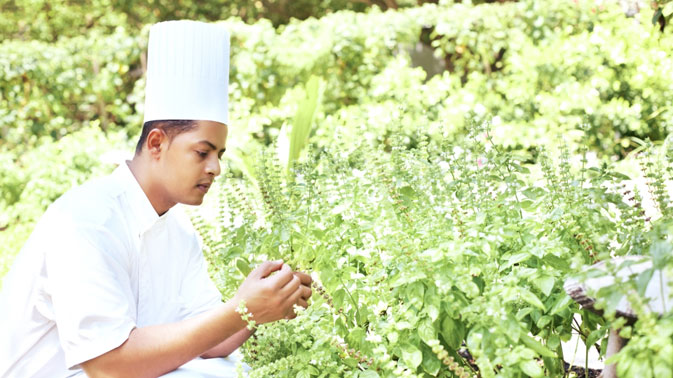 Very close at hand
Only a few years ago international products dominated the menus of top restaurants. Since then, more and more celebrity chefs are using products that grow just outside the front door or are hunted, gathered or caught.
For a long time, cooks like Marc Veyrat in French Savoy, Nadia and Antonio Santini in Italian Lombardy und Alice Waters in Californian Berkeley were seen as crazy outsiders because they mainly used local products.
Since René Redzepis' Noma in Kopenhagen was chosen as the world's best restaurant three times in a row, other radical advocates of local and regional products have come to the attention of food lovers: Gastón Acurio in Lima, Kylie Kwong in Sydney, Michel Bras in French Aubrac, Gunnar Karl Gislason in Reykjavík and Magnus Ek on the small island of Oaxen off the coast of Stockholm, who will only allow what was grown "around the corner" or found within sight of the restaurant in his kitchen. They all have close links with farmers and cattle breeders, fishermen and small manufacturers, gatherers of herbs and mushrooms in the immediate vicinity. Their goal: to taste the native land or, as René Redzepi states - "the reconstruction of living spaces".
In a period of globalisation and industrialised food production, the "nature avant-garde" is encouraging the resurgence of endangered regional animal breeds and the growing of endangered herbs, fruit and vegetables with its demand for natural produce. It is also discovering forgotten and new ingredients: Gastón Acurio, in his kitchen in the Andes (Cocina Novoandina), has returned to using alpacas and guinea pigs, avoided in top gastronomy up until now. The new Scandinavian cuisine is fascinated by local mosses, berries, lichen and woods; and Michael Hoffmann (Margaux), the top chef from Berlin, has his own garden in Brandenburg, where he grows fruit, vegetables and herbs.
After the excesses of molecular gastronomy, the "new" regional and local cuisine in top restaurants is a distinct counter movement, even though it often uses the "molecular" cooking techniques developed by Ferran Adrià in the process.
Links:
Marc Veyrat: www.marcveyrat.fr
Nadia and Antonio Santini: www.dalpescatore.com
Alice Waters: www.chezpanisse.com
René Redzepi: http://noma.dk
Gastón Acurio: www.astridygaston.com
Kylie Kwong: www.kyliekwong.org
Michel Bras: www.bras.fr
Gunnar Karl Gislason: http://dillrestaurant.is
Magnus Ek: www.oaxenkrog.se