CareCollection: Cleaning and care products specifically formulated for Miele appliances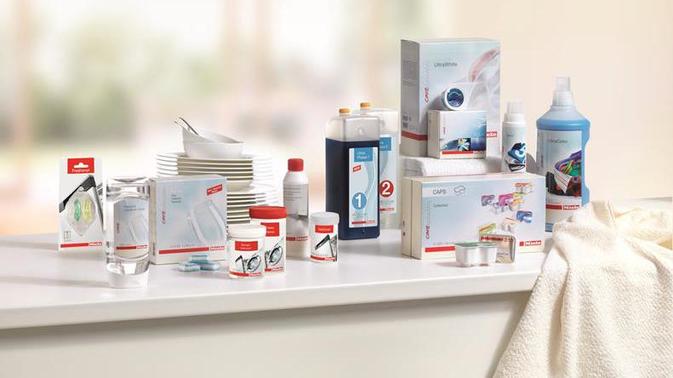 Miele Care Collection
Fabric care goes a level ahead with the latest Miele CareCollection range designed to work harmoniously with the latest Miele appliances providing maximum performance for impressive laundry results. This extensive range of highly-efficient and high-concentration detergents and cleaning agents means you can use less product for even better results.
Customized Fabric Care
The Care Collection represents the quality and innovation Miele has been producing for past 115 years including the best liquid detergents, UltraPhase 1 and 2, caps – special capsules of laundry agents for specific fabrics; and fragrance flacons for a long-lasting fresh fragrance.
UltraPhase 1 and 2 Catridges
2-component detergent for whites and coloureds
For brilliant colours and spotlessly white laundry

Excellent stain removal properties even at low temperatures

No overdosing because eof automatic dispensing

Highly effective for 37 (Ultra Phase 1) and/or 50 (UltraPhase 2) wash loads
Caps
WoolCare
For wool and delicates

Special care factor based on wheat protein and with colour-protection formula

Special ingredients for protection against felting

Best wash results even at low temperatures
Booster
For persistent stains like grease and fruit

For brilliant wash results even at low temperatures

Suitable for white and coloured laundry
Fabric Conditioners
Particularly good for terry toweling

For soft bouncy laundry

Fragrances available:
Aqua – Pure and thorough cleanliness with a fresh scent

Cocoon – For a feeling of peace and harmony

Nature – A floral aroma and a natural well-balanced fragrance
For machines that do not have CapDosing or TwinDosing features, one can pick an Ultra Colour Liquid bottle of detergent made of a unique formula with advanced brighteners that effectively removes stains and protects vibrant colours, leaving garments with a gentle, soft feel; or a Fabric Softener bottle giving laundry a gentle, pleasant feel with a dash of freshness while preventing static cling in the tumble dryer; or WoolCare for Delicates Detergent bottle which is specially formulated for gentle yet thorough cleaning and care of textiles containing, silk, wool and other unique fabric blends.
Fresh fragrances developed in collaboration with renowned parfumeurs MANE for endearing scents on your garments lasting upto 4 weeks.
Aqua – Fresh, modern and sophisticated

Cocoon – Comforting and harmonious in its simplicity

Nature – Freshness and mellowness, perfectly balanced
Download as PDF