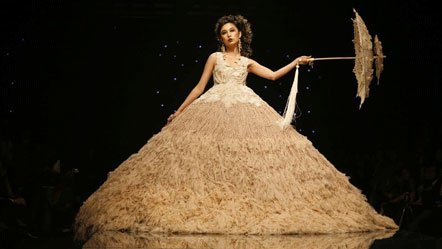 Magnificent embroidery, delicate feather decorations, sumptuous silks, luxuriant blossoms and pearls – Guo Pei's fashion designs are an opulent feast for the eyes.
In 2012/2013 Miele invited top designers, star chefs and restaurant critics to its Beijing and Shanghai showrooms to raise the company's profile as a leading producer of innovative, high-quality integrated kitchen appliances for the Chinese market. Guests were asked to prepare typical family dishes using Miele appliances and to present a recipe that is passed on from generation to generation in their family. This large-scale cooking project was documented by photographers and appeared in various media. The recipes were later collected and published as a book.
Fashion designer Guo Pei was among those invited to take part in "Love Kitchen with Miele". She owns her own fashion label and, in addition to her couture collections, she designs film costumes and special gowns worthy of the big screen. One of her most striking designs was a white gala dress that was hand-decorated with 200,000 Swarovski crystals. It was made for Song Zuying, who performed with Plácido Domingo at the closing ceremony of the 2008 Summer Olympics in Beijing. In spring 2013, as part of the "Love Kitchen with Miele" project, Guo Pei prepared Taiwanese beef on a Miele induction cooker – a recipe that she had been given by her Taiwanese mother-in-law. During the photoshoot, Guo Pei talked enthusiastically about her passion for fashion and of her great love for her husband and their two daughters. To celebrate the success of this campaign in suitable style, Miele China invited 200 guests to a gala dinner in Shanghai's Film Museum. Guo Pei presented her "Chinese Wedding Dress" collection as part of the festivities, which was an homage to the Miele kitchen as a place where mothers pass their love, life experience and culinary expertise on to their daughters. Guests were served the fashion designer's beef noodle dish, prepared on the night by a star chef.
Miele and Guo Pei have maintained a close association since that time. At the Beijing Design Week 2014 Guo Pei gave a well-received lecture on design and on the great importance she and Miele attach to tradition, quality and family. In her studio in Beijing she has a fully automatic Miele washing machine and a Miele dryer, "appliances I can rely on completely". Miele and Guo Pei also presented jointly at a very special event in Shanghai: the "Guo Pei VIP Salon @ Shanghai Miele House 2015". China's lifestyle press representatives and VIPs from Shanghai were not only enraptured by the designer's latest pieces, they also learned all there is to know about sustainable laundry care with Miele products.
In her complex designs Guo Pei revives the unique stylistic idiom of the Chinese imperial age, and achieves a harmonic union with contemporary design. Guo's special approach to design and the artful style elements in her work have brought her acclaim from far beyond the borders of her homeland. Pop star Rihanna caused quite a sensation when she appeared on the red carpet at the Met Gala 2015 wearing Guo's elaborately embroidered canary-yellow gown with thick fur trim. It took three assistants to carry the oversized train. The dress came from Guo's 2010 collection "Arabian One Thousand and Two Nights". It weighs 25 kilogrammes, took 20 months to create and was made using real gold threads. Rihanna had stumbled upon a picture of the dress online and said the ostentatious outfit would be perfect for the queen of China. It was striking enough to feature as the cover photo for the Vogue issue on the Met Gala, in any case.
In Europe, Guo Pei first presented her work at the Paris Fashion Week in spring 2016. She is a guest member of the Chambre Syndicale de la Haute Couture.
Text: Regine Smith-Thyme