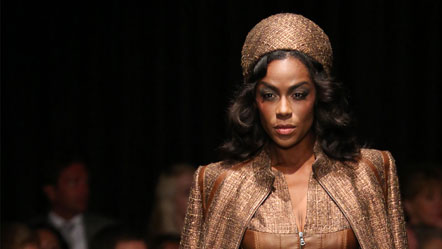 He is among the most called for fashion designers in the Netherlands, and the European fashion scene is thrilled by his creations as well. "Mart Visser Haute Couture" marked its 20th anniversary in 2012 - a cause for celebration and the best motivation overall.
A whisper travels through the rows of the 1800 invited guests when the model steps onto the catwalk in an artfully crafted, long-sleeved white dream bridal gown and a long veil. The stylish creation is without doubt the highlight of Mart Visser's highly celebrated 40th Haute Couture Show. The fashion designer chose the ideal surroundings for presenting his anniversary collection: Year after year international style insiders, trendsetters and fashion journalists get together during the "Miele Catwalk" in Vianen in the Netherlands.
Ever since launching his label "Mart Visser Haute Couture" in 1992, the creative Dutchman has introduced a new collection of women's fashion twice a year - and each time he receives praise and creates a buzz. He and his atelier in Amsterdam have become one of the most sought-after fashion designers in Europe. This is no surprise. Visser's timeless, exquisite designs with very sensuous but straight lines embody pure elegance and femininity - modern, chic, tough, sophisticated. His creations always carry the signature of a strong personality - regardless of whether they are long, shiny evening gowns in purple, dark blue or bronze, soft and smooth ladies' suits with leather trim or light, summery dreams in black and white.
The fashion experts of the renowned Saga International Design Centre in Copenhagen noticed Visser's special style early on. They invited the then young designer to complete his Masters Degree at their school after he had completed his studies at the Montaigne Fashion Academy in Amsterdam. Apparently a good decision: During and for a while shortly after his studies, Visser assisted the well-known fashion designers Frans Molenaar in Amsterdam as well as Anne Klein and Koos van der Akker in New York. At the age of only 25 - with much courage - he decided to turn a great dream into reality and launch his own label. The confirmation that this was the right step came no later than at a society event: a famous actress from the Netherlands appeared in one of his creations. It has been onwards and upwards ever since.
Today many famous ladies from the Netherlands from the most diverse of social circles count themselves among his fans. But also women who did not start a political career, who do not manage a large company or earn their money in show business love Visser's collections, which now also include dinnerware and accessories, amongst other things. That's because they are stylish yet wearable and because they are manufactured according to the highest standards. The traditional art of tailoring and high quality materials are indispensable for those who create high fashion. It is exactly for this reason that he sees the household appliance manufacturer Miele as the perfect "partner in crime". The dearly beloved blouses, dresses, shirts and trousers that were created with such effort should stay beautiful as long as possible of course. The special programmes on Miele washing machines and dryers are the perfect answer.
Text: Kim Leclaire