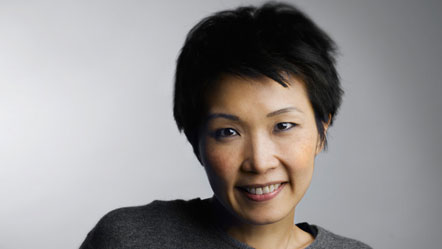 Her exhilarating and likewise strong designs brought her international fame: Fashion designer Johanna Ho.
As a designer, she has always seen it as her responsibility to create beautiful things that make people feel good. In the meantime, this native of Hong Kong would like to accomplish even more and create an awareness for sustainable and socially responsible behaviour with her fashion.
The creations of Johanna Ho are always like an excursion into the world of opposites. Delicate lengths of organza, layers of tulle, flounces and ruffles combine with chunky knits and strong shapes; fine French lace and hand-crocheted details appear on thick wool - carefree and serious, cool and romantic, modern and retro, edgy and classic at the same time. The fusion of opposite elements continues in the colours of the designs as well: Delicate natural hues, pastel colours, blue, black and bright neon appear side-by-side on the catwalk - as seen in the 2012 autumn/winter collection - without damaging the harmonious whole. It is this mixture of delicate and strong elements that gives Ho's outfits a very special character and delights the international fashion community.
The Hong Kong native acquired the necessary know-how during her studies for her Bachelor's and Master's degrees at the renowned Central Saint Martins College of Art and Design in London. Her graduation collection in 1997 received high marks from Iain R. Webb, the well-known fashion editor of the "London Times" at the time, who praised the young Ho as being one of the most promising talents of the year.
With so much wind behind her sails, she soon started her own label "Johanna Ho". Her very first women's prêt-à-porter collection revealed during London Fashion Week was a total success. And in no time, the looks from the show could be seen at Barneys New York, the American luxury department store which had acquired the collection. Subsequent collections have been sold to some 30 leading international fashion houses and department stores throughout the world, including Via Bus Stop in Japan, Myer in Australia, Browns & Harrods in London, and Lane Crawford in Hong Kong. Exclusive collections then followed for Barneys New York in Japan and Tokyo's well-known shopping district Ginza. Fast-paced and busy years for the petite designer.
With a second baby on the way, she has decided to slow down - and to live more than work for a change. This type of break will allow her to rethink the direction of her label. And something else has changed as well: Becoming a mother and the love for her children has revealed a new need. The desire to pass something good on to the next generation, to act in an ecologically and socially responsible manner and to awaken a similar awareness in her customers. Since then, one of her most important goals has been to gradually make her fashion "greener" - whether in terms of the raw materials used or the manufacturing process itself.
A plan that is near and dear to the heart of Miele as well. For this reason, the global family-owned company supported the "Forever Redressed Exhibition" in the posh department store Harvey Nichols in Hong Kong in the summer of 2011. As one of six prominent Chinese designers, Johanna Ho designed outfits that were made entirely from recycled second hand clothing. The two fashion experts continued the collaboration in 2012 as well. Under the title "The Secret of Beauty" Ho designed a neck scarf limited to 300 pieces for Miele - which of course can be washed with Miele appliances.
The likeable Hong Kong native proved in 2010 that she is also comfortable in the limelight, not only behind the scenes. As a jury member for the "Fashion World Talent Awards", the Chinese edition of the American fashion show "Project Runway" with Heidi Klum, she won the hearts of the viewers and candidates. Not only herself, but other Asian stars and artist such as Faye Wong or Miriam Yeung also rely on Ho's designs for important appearances. And if you ever travel to China, you will have the opportunity to acquire a piece from this designer on location - the first Johanna Ho shop opened in May 2012 in the Woodhouse Tsim Sha Tsui in Hong Kong.
Johanna Ho regularly posts photos of her outfits, the newest acquisitions and inspirations, her travels and events on her personal blog:
https://www.johannaho.com/blogs/blogs
Text: Kim Leclaire